Spiritual Sound Bath: Transform Your World Through Listening: Singing Bowl Meditation, OM Mantra Chants, Healing Sounds for Spiritual Moments, Meditation & Relaxation Music for Your Body, Mind & Soul
Unabridged Audiobook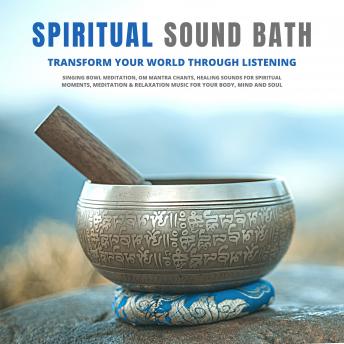 Duration:
12 hours 14 minutes
Summary:
When people try to meditate or relax, they find that their mind wanders and they get more stressed.

Use the power of sound to bring balance, relaxation, and a sense of well-being to your mind, body, and spirit. This unique collection of singing bowls, OM mantra chants & healing sounds gives you:

• A strong feeling of peace so you can distance yourself from the issues in your life, allowing you to rise above them
• Keys to melt the stress away from your mind 
• Sounds that ring at just the right frequency to fill you with calm, peace, and intuition. 
• Control over your mental environment and your state of mind
• Soothing sounds that aid in meditation, causing a better result for you and those around you
• Perfect soundscapes for Wellness, Zen, Reiki, Yoga, Massage, QiGong, Energy Work, for letting go, relaxing, and healing.
• So much more!

WHAT YOU GET:

17 Soothing soundscapes with a total running time of over 11 hours: Singing Bowls, OM Mantra Chants, Healing Sounds for Spiritual Moments, Meditation & Relaxation Music for Your Body, Mind and Soul. The tracks are so relaxing that most people are calm after just a few seconds. The sounds have been used for meditation for centuries. The ancients used them to induce a deeply peaceful and meditative state that brings about mental clarity and sharper intuition.

Are you ready to effortlessly free yourself from the anxieties of stress - anytime, anywhere? Then buy this audiobook today - and immerse yourself in a world of limitless relaxation.

Abhamani Arash & Lhamo Sarepa are two of the most influental sound healing specialists. Together with a team of world-famous musicians, they created these unique tracks.
Genres: