Spruce Texas Romance Box Set: Books 1-3
Unabridged Audiobook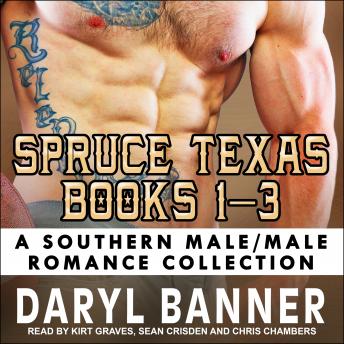 Duration:
29 hours 37 minutes
Summary:
This exclusive box set collection contains the first three books in the bestselling gay romance series, Spruce Texas!

Football Sundae: It's not every day your football-star crush asks to taste your big sundae special. All I want to do is go to culinary school, become a dessert chef, and let go of this small, dusty town-if only it would let go of me.

Born Again Sinner: Cody Davis is gonna make a sinner out of me.

Yes, I know exactly who he is: the wounded soldier at the end of Willow Street. Intimidating. Devastatingly handsome. Muscular body chiseled from stone. Deep dark eyes that dare you to come near. Attitude for days. And I just became his caregiver.

Heteroflexible: Jimmy Strong is one devastating son of a gun. He's gorgeous, stubborn, a dancer, fiercely protective of his loved ones (to a fault), and intense.

He can steal your heart with his infectious laughter . . . and break it with a single glance of his stunning, rich brown eyes. I ought to know. He breaks mine every day.

Contains mature themes.
Genres: