Star Wars Adventures in Wild Space: Books 4-6
Unabridged Audiobook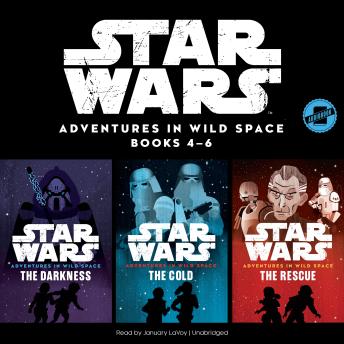 Duration:
6 hours 18 minutes
Summary:
TWO KIDS TAKE ON THE EMPIRE
The Darkness
Devious bounty hunter the Shade is delivering the Graf children to Captain Korda when her ship is attacked by a mysterious species. Milo and Lina must trust their fate to their fellow prisoners. How will they escape THE DARKNESS?
The Cold
Milo and Lina Graf have picked up the trail of their kidnapped parents-but an ambush in the depths of Wild Space leaves them stranded on a desolate ice planet. With an old enemy out for revenge, can they survive THE COLD?
The Rescue
Milo and Lina Graf, have located the mysterious Wild Space planet where their parents are being held by the evil Empire. They must infiltrate a secret base to free them. With an entire legion of Imperial troops to contend with, can the young explorers at last succeed in THE RESCUE?
Genres: