Stock Market Investing: A Practical Guide To Approaching Stock Markets To Make Money And Build Passive Income Streams Through Easy, Simple And Long-Term Profitable Strategies
Unabridged Audiobook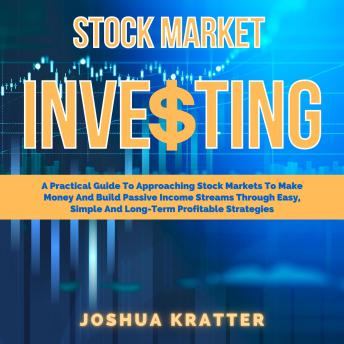 Duration:
2 hours 29 minutes
Summary:
Do you want to learn how to make money in the stock market with simple and replicable strategies, even if you have never done it before? Are you afraid of making mistakes that could prevent you from building your wealth? Then this is the right audio book for you
The stock market is the greatest opportunity machine ever created. This audio book will teach you everything that you need to know to start making money in the stock market today. You firstly need to avoid all costly mistakes that beginners make. And you need time-tested trading and investing strategies that work.
Like a road map that anyone can follow and replicate, this guide will teach you:
• The best place to open up a brokerage account;
• How to buy your first stock and generate passive income in the stock market;
• Insider tricks used by professional traders;
• The mistakes you should never make when buying value stocks;
• How to create a secure financial future for you and your family;
• And much, much more
Are you ready to get started creating your wealth with the stock market? Join the thousands of smart traders and investors who have already profited from this ultimate guide to the stock market. Scroll up and buy now to get started today.
Genres: