Submissive BDSM Training, Dirty Talk, Sex Positions (3 in 1) (Extended Edition): A Kinky Guide on How to Train Your Sub and Dom, with 100 Climax-Enhancing Kama-Sutra and Tantric Sex Positions for Coup
Unabridged Audiobook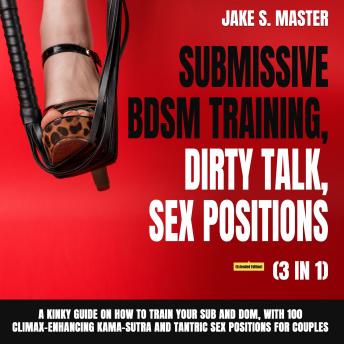 Duration:
10 hours 34 minutes
Summary:
Are you looking for sexual encounters that will delve into your most intimate fantasies? 

Maybe you have been recently wondering how to spice up your relationship, and it motivated you to look for tips on how you can enhance your sex life with your partner? Or perhaps you've been using dirty talk to sound sexy in bed, and you want to level up your game?

You could even have no idea about the variety of positions you could do, but you have been looking into ways to be more connected with your partner, and the topic of erotica has come to mind!

The good news is, you can have all this information in the palm of your hand because this Erotic Bundle has everything you need and so much more, all packed into one well written and clearly explained book.

After all, isn't it time to add more excitement and fire to your relationship?

This book discusses everything you could want to know about dirty talking, BDSM, and sex positions, from what it means to be a dom or a sub, going into greater detail about the different ways on how to master the art of sex.

But here is where this book differs from others. Not only does this book provide you with information on sex itself, but this book collection also teaches you how to pleasure your partner and using various methods to take it to the next level.

Inside Submissive BDSM Training, Dirty Talk, Sex Positions Bundle, discover:

●The relevance of dirty talking during sex in a relationship

●The importance of giving your partner what they want

●Secrets to talking her into orgasmic pleasure

●The importance of opening up to your partner about your sexual fantasies

Those are just a couple of daring and exciting topics covered in this book!

What are you waiting for? Pick up a copy of this Bundle today and start living your fantasies and spice up your relationship!
Genres: