The Summer Duchess
Unabridged Audiobook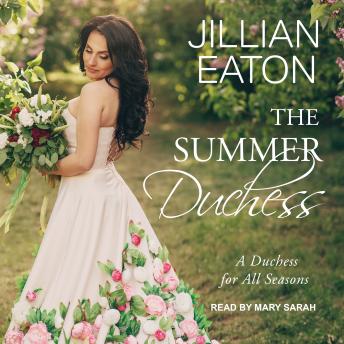 Duration:
2 hours 10 minutes
Summary:
A widow with a broken heart . . .

The granddaughter of a duke and darling of the ton, Lady Georgiana's life was one glittering soiree after another . . . until her husband did her the grave disservice of dying. Recently returned to London after a year spent rusticating in the country, she's eager to resume her social life. One thing she doesn't plan on doing? Crossing paths with Sebastian Northcliff, the arrogant cad who stole her first kiss and broke her heart.

A duke with a dark past . . .

There are whispers about the Duke of Warwick. Whispers that he killed his first wife. Whispers that he is a cruel, unforgiving man. Whispers that he is incapable of love. For his part, Sebastian doesn't care what people say . . . as long as they leave him the hell alone. With no family, no friends, and no plans to remarry, he's content to live in the shadows. Until a chance encounter with an old flame reminds him just how hot his passion can burn.

A passionate love affair seven years in the making . . .

Georgiana has never forgiven Sebastian. Sebastian has never forgotten Georgiana. After seven years of loathing, can two opposites finally find love? Or is this one relationship that's doomed to repeat itself? Find out in The Summer Duchess, the third novella in Jillian Eaton's bestselling A Duchess for All Seasons series.

Contains mature themes.
Genres: