The Tejano Conflict: Cutter's Wars
Unabridged Audiobook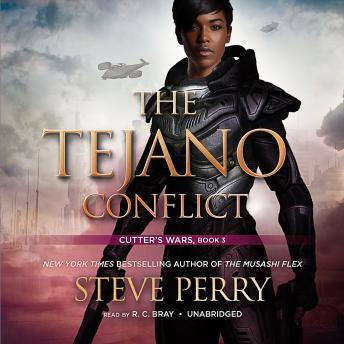 Duration:
8 hours 6 minutes
Summary:
At the end of the twenty-fourth century, war is fought in acivilized manner: each side hires mercenaries to engage in combat inspecifically designated areas. To the victor go the spoils-whatever they maybe.
After a couple of assignments involving more intrigue andskulduggery than the Cutter Force Initiative ever wanted, the unit is lookingforward to being part of a straight-up, short-term industrial war on Earth.
Cutter agrees to a support role offered by an old armycomrade who's now a general in a larger military force. The pay is good, theunit happy. All they have to do is basic ranger stuff: sneak and peek, shootand scoot.
But what starts out as a corporate fight to occupy avaluable piece of contested territory quickly goes sideways, and once againCutter and crew find themselves in the middle of situations in which thingsaren't as they seem, and the unit must determine the truth-or lose more thanjust a battle.
Genres: