The Commodore
Unabridged Audiobook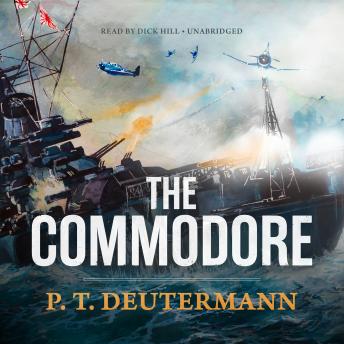 Duration:
11 hours 55 minutes
Summary:
A Navy destroyer commander navigates hostile seas and ferocious battles in this dramatic World War II thriller set in the South Pacific.

In The Commodore, the Navy in 1942-1943 is fighting a losing battle against Japan for control of the Solomon Islands. Vice Admiral William "Bull" Halsey is tasked to change the course of the war. Halsey, a maverick, goes on the offensive and appoints a host of new destroyer commanders, including a wildcard named Harmon Wolf. An American Indian from a Minnesota reservation, Wolf has never fit in with the traditional Navy officer corps. But under Halsey, Wolf's aggressive tactics and gambling nature bring immediate results, and he is swiftly promoted to commodore of an entire destroyer squadron. What happens next will change Wolf's life, career, and the fate of his ships forever.

An epic story of courage, disaster, survival, and triumph that culminates in the pivotal battle of Vella Gulf, The Commodore is a masterful novel of an unlikely military hero. "Deutermann's experience as a US Navy captain informs this engrossing novel set in the Pacific theater during WWII...Deutermann handles the human-interest aspects well, but it's his battle sequences on the high seas that stand out. Fans of military action thrillers will race through the pages and finish the book wanting more."-Publishers Weekly (starred and boxed review)
Genres:
1 of 1 people found this review helpful.