Then There Were Nun
Unabridged Audiobook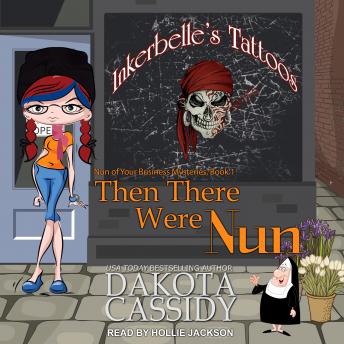 Duration:
6 hours 29 minutes
Summary:
My name is Sister Trixie Lavender, and I'm an occasionally possessed excommunicated nun.

Okay, that's a lot to swallow at once. But it's true I was booted from the convent after doing something unspeakable. Something I had no control over. Something that lives inside me to this day, exploding out like that chestburster in Alien when I least suspect it.

But I have help. My amazing friend Coop-the demon who saved me from an ugly end-remains by my side, loyal and true. She was Hell's best tattoo artist back in the day, and together with my designs, we're opening Inkerbelle's Tattoos and Piercings, right in the heart of Portland's most darling district, Cobbler Cove.

Of course, our bid to fit in would be a little less rocky if I could help Coop assimilate with humans, keep a lid on our sassy talking owl, Livingston . . . oh, and if someone hadn't killed our landlord on day one-in our shop.

This mystery-loving, bumbling ex-nun and her trusty demon sidekick are on the case! If I don't bumble my way right into my own demise first . . .
Genres: