Three More Jack Reacher Novellas: Too Much Time, Small Wars, Not a Drill and Bonus Jack Reacher Stories
Unabridged Audiobook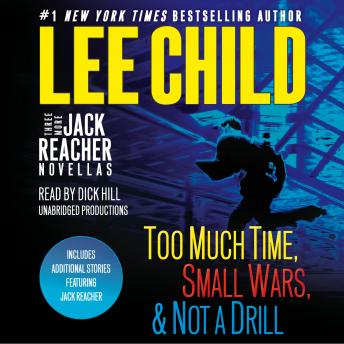 Duration:
8 hours 8 minutes
Summary:
Lee Child once again demonstrates his mastery of the thriller genre with an unbeatable collection of three Jack Reacher novellas and six short stories, together for the first time in one pulse-pounding collection from the #1 New York Times bestselling author

Too Much Time: In this original novella featuring Jack Reacher after his time in the army, Reacher finds himself in a hollowed-out town in Maine. He witnesses a random bag-snatching but sees much more than a simple crime, in a tale that leads into Lee Child's new Reacher novel, The Midnight Line.

Small Wars: Lee Child goes back to 1989, when Jack Reacher is an MP assigned to solve the cold-blooded murder of a young officer. 
     The telex is brief and to the point: One active-duty personnel found shot to death ten miles north of Fort Smith. Circumstances unknown. The victim was shot twice in the chest and once in the head. A professional hit. The crime scene suggests an ambush. Military police officer Jack Reacher is given the case. He calls his older brother, Colonel Joe Reacher, at the Pentagon for intel and taps Sergeant Frances Neagley to help him answer the big question: Who would kill a brilliant officer on the fast-track to greatness?
 
Not a Drill: Jack Reacher is on the road, hitching a ride with some young Canadians who are planning a hike through the dense forests of Maine. They part ways after sharing a hot meal, and Reacher checks out a quiet town surrounded by countryside serene enough to cool even his raging wanderlust. But not for long. First the trail is suddenly closed. Then the military police show up in force. Maybe it's a drill. Or maybe it's trouble—the kind of trouble that always finds Reacher, no matter how far he travels off the beaten path.
 
And for the first time on audio, additional stories featuring Jack Reacher, including: James Penney's New Identity, Everyone Talks, Maybe They Have a Tradition, Guy Walks into a Bar, No Room at the Motel, and The Picture of the Lonely Diner
 

Praise for Lee Child

"There's a reason [Lee] Child is considered the best of the best in the thriller genre."—Associated Press

"This series [is] utterly addictive."—Janet Maslin, The New York Times

"Jack Reacher is today's James Bond, a thriller hero we can't get enough of. I read every one as soon as it appears."—Ken Follett

"The Reacher novels are easily the best thriller series going."—NPR

"Reacher's just one of fiction's great mysterious strangers."—Maxim

"Irresistible Reacher remains just about the best butt-kicker in thriller-lit."—Kirkus Reviews
Genres:
1 of 1 people found this review helpful.