Thrones of Ash: Kingdoms of Sand, Book 3
Unabridged Audiobook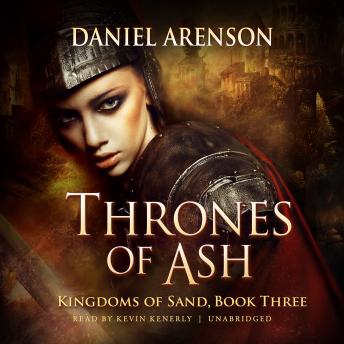 Duration:
10 hours 4 minutes
Summary:
The Empire burns.

The old emperor is dead. His daughter, the sadistic Porcia Octavius, has won a bloodthirsty battle for the crown. But she will not rest easy on her throne.

Already her brother sails to foreign lands, seeking to build an army and dethrone her. In a southern savanna province, a young queen rises up against the Empire. In northern misty forests, barbarian tribes gather for war. In Zohar, the eastern desert, the hero Epher Sela joins a rebellion against the vicious empress. Meanwhile, past desert and mountains at the edge of the world, an ancient evil awakens, threatening to undo all that humanity has built.

Legionaries, rebels, and priests clash, vying to rule crumbling kingdoms. Yet when victors emerge from the inferno, will they find only thrones of ash?
Genres: