The Trial of Gwen Foley
Unabridged Audiobook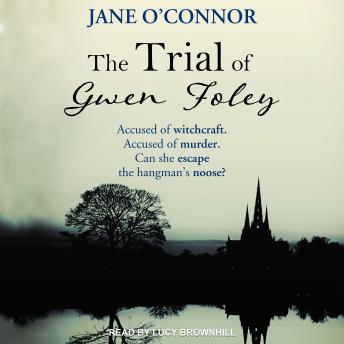 Duration:
7 hours 13 minutes
Summary:
Accused of witchcraft. Accused of murder. Can she escape the hangman's noose?

Lichfield 1723. A woman accused of witchcraft and murder faces the hangman's noose unless Hester and the Lunar Society can save her.

Hester, the wife of an acting magistrate, is fighting a cause. Sickened by the hanging of a woman who had been brutalized by her husband, and still deeply affected by her own childhood experiences, Hester feels compelled to help women who face the death penalty.

When Hester's husband is summoned to the scene of a murder, Hester accompanies him. They discover that the victim, Lady Aston, is clutching a witch's bottle. Lord Aston is convinced that Gwen Foley, a woman in the village, has murdered his wife.

Gwen is branded as a witch and is dragged from her cottage to jail to await trial. But Hester believes Gwen is innocent and promises to help.

Is Gwen a witch and a murderer who deserves to hang?

With the help of the Lunar Society, Hester is about to find out.
Genres: