Union's Daughter
Unabridged Audiobook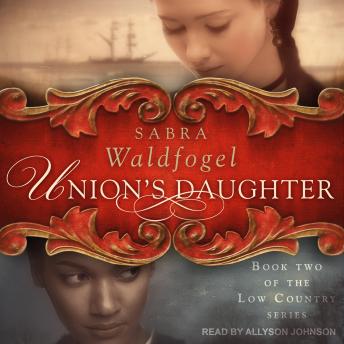 Duration:
10 hours 55 minutes
Summary:
One woman abhors her past. The other fights for freedom. Will their battle for emancipation leave them casualties of war?

South Carolina, 1862. Emily Jarvie is determined to send her family's slave-owning history to its grave. When the Union Army captures the Sea Islands, she returns to the south to teach the former slaves, part of the Army's unusual experiment in racial equality. Despite her loyalty to the Union cause, her Southern heritage raises a brick wall of Yankee suspicion.

Oberlin College, Ohio. Fugitive slave Caro Jarvie longs to pick up a rifle to fight for freedom. But as a woman, she has to settle for reporting on the war second-hand from the Union Army camp in the Sea Islands. When she learns that Harriet Tubman is in South Carolina to lead a military mission to free slaves, Caro seizes her chance to enter the fray.

As Emily and Caro struggle to bury the past, old loves and new flames open a door to the future they both hope for. But with the war for America's soul raging ever closer, each woman finds her strength tested as she strives for a better tomorrow.

Can they forge a legacy of love and acceptance during a time of turmoil and death?
Genres: