The Unwomanly Face of War: An Oral History of Women in World War II
Unabridged Audiobook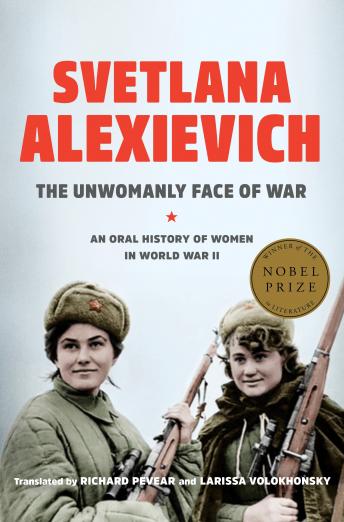 Duration:
14 hours 19 minutes
Summary:
A long-awaited English translation of the groundbreaking oral history of women in World War II across Europe and Russia—from the winner of the Nobel Prize in Literature

"A landmark."—Timothy Snyder, author of On Tyranny: Twenty Lessons from the Twentieth Century

For more than three decades, Svetlana Alexievich has been the memory and conscience of the twentieth century. When the Swedish Academy awarded her the Nobel Prize, it cited her invention of "a new kind of literary genre," describing her work as "a history of emotions . . . a history of the soul."

In The Unwomanly Face of War, Alexievich chronicles the experiences of the Soviet women who fought on the front lines, on the home front, and in the occupied territories. These women—more than a million in total—were nurses and doctors, pilots, tank drivers, machine-gunners, and snipers. They battled alongside men, and yet, after the victory, their efforts and sacrifices were forgotten.

Alexievich traveled thousands of miles and visited more than a hundred towns to record these women's stories. Together, this symphony of voices reveals a different aspect of the war—the everyday details of life in combat left out of the official histories.

Translated by the renowned Richard Pevear and Larissa Volokhonsky, The Unwomanly Face of War is a powerful and poignant account of the central conflict of the twentieth century, a kaleidoscopic portrait of the human side of war.

"But why? I asked myself more than once. Why, having stood up for and held their own place in a once absolutely male world, have women not stood up for their history? Their words and feelings? They did not believe themselves. A whole world is hidden from us. Their war remains unknown . . . I want to write the history of that war. A women's history."—Svetlana Alexievich

Read by Julia Emelin, Yelena Shmulenson, Allen Lewis Rickman, and Alan Winter

THE WINNER OF THE NOBEL PRIZE IN LITERATURE
"for her polyphonic writings, a monument to suffering and courage in our time."

"Patient in overcoming cliché, attentive to the unexpected, and restrained in exposition, her writing reaches those far beyond her own experiences and preoccupations, far beyond her generation, and far beyond the lands of the former Soviet Union."—Timothy Snyder, author of On Tyranny: Twenty Lessons from the Twentieth Century

"Alexievich's artistry has raised oral history to a totally different dimension. It is no wonder that her brilliant obsession with what Vasily Grossman called 'the brutal truth of war' was suppressed for so long by Soviet censors, because her unprecedented pen portraits and interviews reveal the face of war hidden by propaganda."—Antony Beevor, author of Stalingrad: The Fateful Siege


"A mighty documentarian and a mighty artist . . . Her books are woven from hundreds of interviews, in a hybrid form of reportage and oral history that has the quality of a documentary film on paper. But Alexievich is anything but a simple recorder and transcriber of found voices; she has a writerly voice of her own which emerges from the chorus she assembles, with great style and authority, and she shapes her investigations of Soviet and post-Soviet life and death into epic dramatic chronicles as universally essential as Greek tragedies."—The New Yorker
Genres:
1 of 1 people found this review helpful.