What Men Live By
Unabridged Audiobook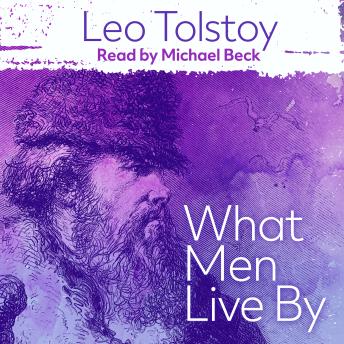 Duration:
0 hours 55 minutes
Summary:
Following the story of a poor cobbler and a mysterious stranger rescued from the cold, What Men Live Byreveals the source of human kindness and of life itself.  As this stranger comes to live and work with the cobbler and his family, he learns the foundations of humanity and love.  As a witness to several different encounters with this family, he begins to understand that man's very existence and continued survival depends on love.  Tolstoy brings the beauty of Christ's wisdom and love to this simple story of generosity and good will.  This work inspires true reflection into love's role in life and even more so into God's role in the lives of all men.


This series, published by ONE audiobooks, seeks to produce Classic Christian titles read by well known and loved audiobook narrators.  ONE takes great care to cast these titles with readers who will provide an unmatched listening experience for these important works.

Michael Beck brings his passion to every performance and is considered to be one of the top audiobook narrators in the industry.
Genres: