What's So Great about Christianity
Unabridged Audiobook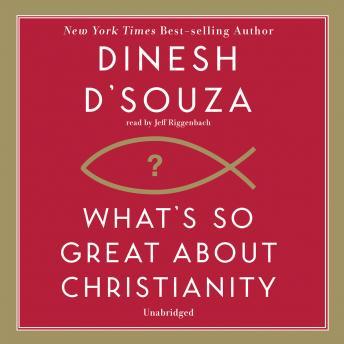 Duration:
11 hours 56 minutes
Summary:
A provocative, enlightening, twenty-first-century successor to C. S. Lewis' Mere Christianity, Dinesh D'Souza's What's So Great about Christianity is the perfect book for the seeker, the skeptic, and the believer who wants to defend his faith.

Is Christianity obsolete? Can an intelligent, educated person really believe the Bible? Or do the atheists have it right? Here, bestselling author Dinesh D'Souza investigates both Christianity and atheism and their influences on culture to show why there is, indeed, something great about Christianity.

Challenging the assumptions of both believers and doubters, D'Souza demonstrates how Christianity created the framework for modern science and is compatible with the theory of evolution; how Christianity explains consciousness and free will, which atheists have to deny; and why, against all expectations, Christianity is the fastest-growing religion in the world, while secularism and atheism are on the decline. He argues that, ultimately, you can't have Western civilization without the Christianity that gave it birth.
Genres: