When the Game Was Ours
Unabridged Audiobook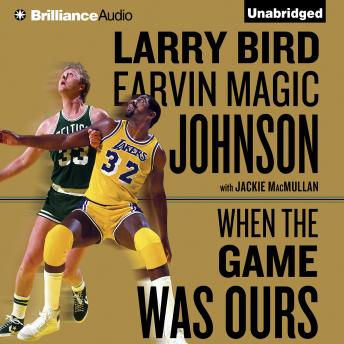 Duration:
13 hours 3 minutes
Summary:
From the moment these two legendary players took the court on opposing sides, they engaged in a fierce physical and psychological battle. In Celtic green was Larry Bird, the hick from French Lick with laser-beam focus, relentless determination, and a deadly jump shot, a player who demanded excellence from everyone around him. Magic Johnson was Mr. Showtime, a magnetic personality with all the right moves. Young, indomitable, he was a pied piper in purple and gold.

Their uncommonly competitive relationship came to symbolize the most thrilling rivalry in the NBA—East vs. West, physical vs. finesse, old school vs. Showtime, even white vs. black. Each pushed the other to greatness, and together Bird and Johnson collected eight NBA Championships and six MVP awards, helping to save a floundering NBA. At the start they were bitter rivals, but along the way they became lifelong friends.

With intimate detail, When the Game Was Ours reveals for the first time the inner workings of two players dead set on besting each other. From the heady days of trading championships to the darker days of injury and illness, we come to understand Larry's obsessive devotion to winning and how his demons drove him on the court. We hear him talk with candor about playing through chronic pain. In Magic we see a star struggle with the sting of defeat, not just as a player but as a team leader. When he learns he has contracted HIV we hear in his own words how that devastating news affected his relationships in basketball and beyond. But always, we see both these men prevail.
Genres: