Witches Get Stitches
Unabridged Audiobook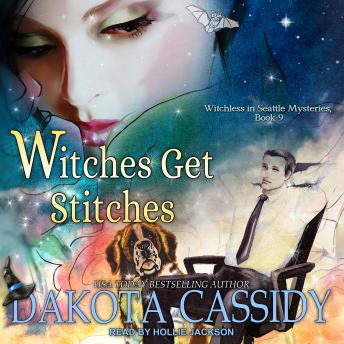 Duration:
6 hours 24 minutes
Summary:
When last we met, good people, the biggest wish I've ever made came to fruition. It didn't happen without some help-okay, a lot of help. Either way, let's just say the deed was done.

My outrageously handsome, smart, sometimes persnickety (read mostly persnickety) Spy Guy, Winterbottom, is finally here on earth with me, recuperating from his afterlife jaunt. And I couldn't be happier . . .

Sure, he can be a difficult patient. He's forever bellowing my name from his sick bed. He likes his socks ironed and his toast cut in triangles, thank you very much. Add in the fact that some of the spells I've cast to make this dream a reality have had repercussions (an understatement), and it's been sheer chaos.

But all tomfoolery aside, Win's here with us, and I'm thrilled, as you can imagine. Mostly.

So when it's decided amongst my favorite men I should take a day for myself and hit Seattle for some much-needed shopping, I hesitantly head out. And then I die.

As you can imagine, it only goes downhill from there . . .
Genres: