Wizards of Waverly Place: Books 1-4
Unabridged Audiobook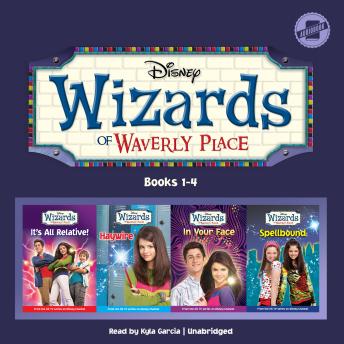 Duration:
7 hours 16 minutes
Summary:
There's something magical happening in New York City ...

The Russos look like an average family: Mom and Dad run a Manhattan deli, while their kids, Alex, Justin, and Max, deal with school, friendships, and first dates. But things are not exactly as they seem because these kids are all wizards in training! To make things more complicated, only one of them will remain a wizard after the age of 18. Talk about sibling rivalry! This collection includes the first four books in the Wizards of Waverly Place series.

Wizards of Waverly Place #1: It's All Relative!

When Alex Russo discovers that her dad has taught her older brother, Justin, how to zoom through the air on the family's magic carpet, she insists on getting her own flying lessons. But Mr. Russo isn't quite ready for his little girl to fly, so Justin secretly teaches her how to take to the skies. When their father finds out, will Alex be grounded?

Wizards of Waverly Place #2: Haywire

What's worse than failing your Spanish test? If you're Alex Russo, then it's having your parents find out! Now she can't go on a date with supercute Riley until she passes her makeup exam. But with the help of a Pocket Elf-a tiny magical creature who has in-depth knowledge of every subject-she is able to cheat her way to an A and keep her date with Riley. But her brothers, Justin and Max, decide to team up with the Pocket Elf to teach her a lesson she'll never forget. Will Alex's date be memorable, or a major disaster?

Wizards of Waverly Place #3: In Your Face

Justin is head over heels for Miranda, the new girl in his biology class. She's smart, beautiful, and has even asked him to be her date for the junior prom! Justin couldn't be more psyched-until he gets a gigantic blemish on his forehead. Alex tries to use some magical mojo to make it disappear, but the spell backfires and brings the zit to life instead! Will Justin be able to hide his talking pimple from Miranda and avoid a bumpy situation?

Wizards of Waverly Place #4: Spellbound

Alex is shocked when she and her best friend, Harper, are invited to Gigi's annual tea party. After all, Gigi is never nice to them. But what's even more surprising is that Harper can't wait to attend. But then Alex discovers that Gigi's up to no good. The only trouble is, Harper doesn't believe her. Suddenly Alex has a decision to make-should she do nothing and hope that the tea party turns out the way Harper expected? Or should she cast a spell to save her friend from major embarrassment?
Genres: