You'll Be Sor-Ree!: A Guadalcanal Marine Remembers the Pacific War
Unabridged Audiobook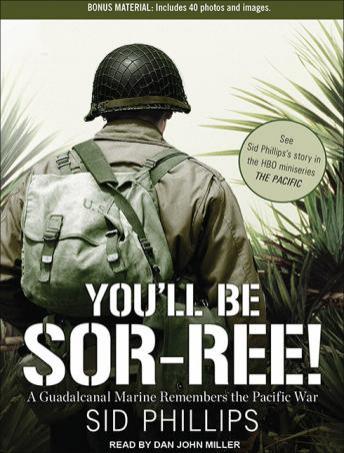 Duration:
5 hours 30 minutes
Summary:
Sid Phillips knew he was a long way from his home in Mobile, Alabama, when he plunged into the jungles of Guadalcanal in August 1942. A mortarman with the same company of the 1st Marine Division as Helmet for My Pillow author Robert Leckie, Sid was a seventeen-year-old kid when he entered combat. By the time he returned home some two years later, the island fighting on Guadalcanal and Cape Gloucester had turned him into a man and an 'Old Timer' by Marine standards.
In this true story, Sid recalls his encounters with icons like Chesty Puller, General Vandergrift, Eleanor Roosevelt, and his boyhood friend Eugene Sledge, author of With the Old Breed. He remembers fighting in the battle of the Tenaru (Alligator Creek), the struggle for Henderson Field, bombardments by Japanese battleships, the brutality of the tropics, and the haunting notion of being surrounded and expendable. This is the story of how Sid stood shoulder to shoulder with his Marine brothers to discover the strength and faith necessary to survive the dark, early days of World War II in the Pacific.
Genres:
1 of 1 people found this review helpful.