Your Blue Is Not My Blue: A Missing Person Memoir
Unabridged Audiobook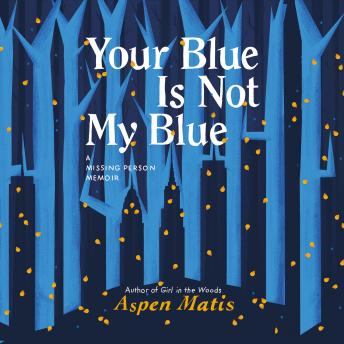 Duration:
9 hours 50 minutes
Summary:
From Aspen Matis, author of the acclaimed true story Girl in the Woods, comes a bold and atmospheric memoir of a woman who—in searching for her vanished husband—discovers deeper purpose.

Aspen's and Justin's paths serendipitously aligned on the Pacific Crest Trail when both were walking from Mexico to Canada, separately and alone—both using thru-hiking in hopes of escaping their pasts. Both sought to redefine themselves beneath the stars. By the time they made it to the snowy Cascade Range of British Columbia—the trail's end—Aspen and Justin were in love.

Embarking on a new pilgrimage the next summer, they returned to those same mossy mountains where they'd met, and they married. They built a world together, three years of a happy marriage. Until a cold November morning, when, after kissing Aspen goodbye, Justin left to attend the funeral of a close friend.

He never came back. As days became weeks, her husband's inexplicable absence left Aspen unmoored. Shock, grief, fear, and anger battled for control—but nothing prepared her for the disarming truth. A revelation that would lead Aspen to reassess not only her own life but that of the disappeared as well.

The result is a brave and inspiring memoir of secrets kept and unearthed, of a vanishing that became a gift: a woman's empowering reclamation of unmitigated purpose in the surreal wake of mystifying loss.
Genres: